MISSION
Do good work for good people.
TNT
If you need some help, you should call us. What do we help with? Photography, design, art direction, and all-around good cheer. Wait, who are we? We're ineffable and unstoppable – literally, we packed up a 24 ft RV and traveled around the U S of A for 2 months, the only way to relate to people is to get out and meet the people.
You can see the map of our journey here: TNT Tour Map
And if you need any kind of creative support, email us at tnt@tntbomb.com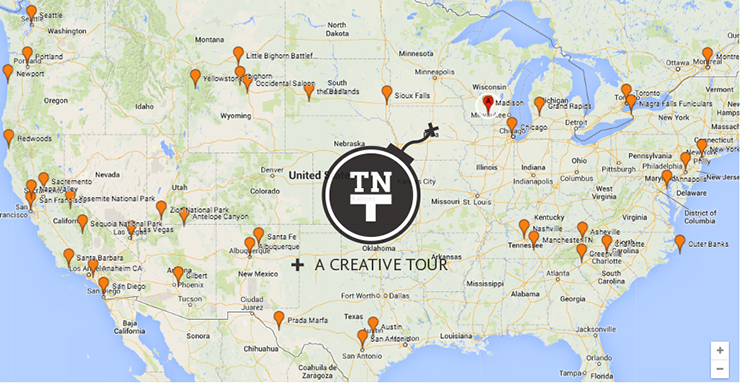 ---
WHO ARE WE?
Tina Rataj is an award-winning designer and artist. For more than 10 years Tina specialized in advertising for a varied group of local, regional and national clients. In the last 3 years she has led a 20 person design team, spanning 8 states, in best practices for out-of-home advertising, client relationships and concept driven creative. Tina brings diverse experience and passion to her work as a creative director, designer, photographer and artist. When not working, Tina can be found walking her dog, doing yoga, designing her next tattoo, or solving the worlds problems with her husband.
Nick Berard works primarily with people and applies his skills of environmental portraiture and real world experiences by bringing to life editorial, advertising, corporate, and non-profit campaigns. His work over the past 20 yrs has been commissioned by national and international clients, recognized by the Fuji corporation and most recently featured in Communication Arts Photo Annual. Daily motivators for Nick, the creative process, riding a bicycle, his illustrious family and a strong cup of coffee.